Uttaranchal Tourism
–»
Roop Kund

Roop Kund

Duration :
10 Nights / 11 Days
Best season :
May to October
Destination Covered :
Roop Kund
Region:
Garhwal Himalayas
Base:
Chamoli District
Altitude:
5029 m above Sea Level
Roopkund is situated in Chamoli district of garhwal. The road head for roopkund is lohajung 155km from Almora, 217km from nainital and 235km from Kathgodam. Roopkund situated at a height of 5029m in the lap of Trishuli massif. This area is usually called is the 'mystery lake', since human skeletons and remains of horses from the poleolithic age were found here The beautiful mysterious lake is situated below the Trishul massif an altitude of 5029 mts above sea level. For the first time in 1898 it was discovered that many human skeletal remains where lying there in and around the lake. There are many theories to explain the findings but none satisfying to everybody. Hence the lake is also known as the "mystery lake".The lake is surrounded by rock-strewn glaciers and snow clad peaks. The lake is rather shallow having a depth of 2m. The edges are snow covered for most part of the year. When snow melts, one can see human and equine skeletal remains, sometimes with flesh attached; well preserved in the alpine conditions. This lake has a special significance for goddess Nanda and her devotes. Little ahead Homekundi, which is used as the base camp by mountaineers attempting Trishul peak.
DAY 1-
DELHI TO RISHIKESH (230 KM DRIVE)
DAY 2-
RISHIKESH TO LOHAJUNG (245KM DRIVE)
DAY 3-
LOHAJUNG TO DIDANA (10KM TREK)
DAY 4-
DIDANA TO BEDNI BUGGYAL (12KM TREK)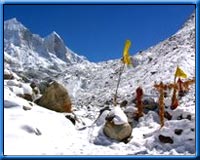 DAY 5 -
BEDNI BUGGYAL TO BAGWABASA (9KM TREK)
DAY 6-
BAGWABASA TO ROOP KUND AND BACK TO BAGWABASA (12KM TREK)
DAY 7-
BAGWABASA TO BEDNI BUGGYAL (9KM TREK)
DAY 8-
BEDNI BUGGYAL TO WAN (12KM TREK)
DAY 9-
WAN TO LOHAJUNG (14KM TREK)
DAY 10-
LOHAJUNG TO RISHIKESH (245KM DRIVE)
DAY 11-
RISHIKESH TO DELHI (230 KM DRIVE)
TOUR ENDS WITH SWEET MEMORIES TAKE HOME
Roop Kund, Trekking in Uttaranchal Reservation Form