Uttaranchal Tourism
–»
Mussoorie

Mussoorie, Uttaranchal Hill Station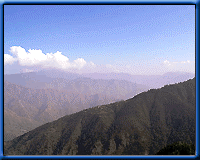 Mussoorie,
Popularly known as the Queen of Hills, this charming hill station, 34 kms from Dehradun is situated at an altitude of 2003 mts in the Garhwal hills. above sea-level. Mussoorie is one the beautiful hill stations in India and the most frequently visited. It provides excellent respite to people who want relief from the hot sultry conditions of the plains, especially since it is close enough to the capital to make just weekend trip. Also, major Hindu pilgrimage sites like Kedarnath, Badrinath, Gangotri, Yamunotri, Haridwar, Rishikesh are not far from this place.
In 1820, Captain Young of the British army was influenced by the beauty of this place and made it his residence. The name, Mussoorie is derived from plants of 'Mussoorie' which were found in abundance here. After its discovery, this hill station gradually developed as a centre of education, business, tourism and beauty.
Mussoorie (Places to See)

Gun Hill
Enjoy a Ropeway ride to the second highest peak of Mussoorie. It can also be negotiated by bridles path which forks-off from Mall Road near Kutchery and to reach takes about twenty minutes. The Ropeway distance is only 400 mtrs. And the sheer thrill of the ride is memorable. Gun Hill offers a beautiful panoramic view of the Himalayan ranges namely Bunderpunch, Srikantha, Pithwara and Gangotri group etc. and a bird's eye view of Mussoorie town and Doon Valley. During pre-independence days a gun mounted on this top used to be fired heralding mid-day to enable people to adjust their watches and hence this name.
Municipal Garden
A picnic spot having a beautiful garden and an artificial mini lake with boating facilities. It is located at a distance of 4kms by cycle rickshaw, pony or by car and only 2 kms on foot via Waverly Convent Road.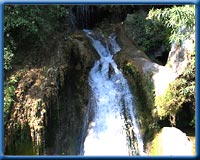 Childer's Lodge
Highest Peak of Mussoorie near Lal Tibba. It is about 5 kms from the Tourist Office and one can go on horse back or on foot. Snow view from this spot is exhilarating.
Camel's Back Road
It starts from Kulri Bazar near Rink Hall and ends at Library Bazar covering a total distance of about 3 kms. The main charm of this froad is horse riding and wlking. Sunset view of the Himalayas is superb. Camel's Rock with a life like resemblace can be seen from the spot near Mussoorie Public school.

Jharipani Fall
8.5 kms from Mussoorie on Mussoorie- Jharipani Road. Visitors can go by bus or by car upto 7 kms to Jharipani from where the fall is 1.5 kms, on foot.
Bhatta Fall
7 kms from Mussoorie on Mussoorie-Dehradun road. Access by car or bus upto Balta village from where the fall is 3kms by car or foot. An ideal spot for bathing anf picnics.
Kempty Fall
15 kms from Mussoorie on the Yamunotri Road having an altitude of 4500 ft. It has the distinction of being the biggest and prettiest waterfall located in a beautiful valley and is surrounded by high mountains. Bath at the foot of the falls is refresshing and enjoyabled for children and adults alike.
Nag Devta Temple
An ancient temple situated on Cart Mackenjie Road and is about 6 kms from Mussoorie. Vehicles can go right upto the spot. It Provies a charming view of Doon Valley as well as of Mussoorie.
Mussoorie Lake
A newly developed picnic spot, situated on Mussoorie- Dehradun road and is about 6 kms from Mussoorie. It is a delightful spot. Pedal boats are availble. It commands an enchanting view of Doon Valley and nearby villages.
Van Chetna Kendra
At a distance of about 2 kms on Tehri bye pass road, this place is developed as a picnic spot and has a park surrounded with pine forest and flowering shrubs, and is approachable by foot or taxi/car. The main attraction is the wildilife of the park like Ghurar, Kanankar, Himalayan Peacock, Monal etc.
Sir George Everest House
6 kms The Park Estate of sir George Everest, First Surveyor General of India, Who had his offce and residence here, is approachable by road. The highest peak in the world, Mount Everest, is named after him.
Jwalaji Temple (Benog Hill)
9 kms 6to the west of Mussoorie and at an altitude of 2104 mtrs. Is the Jwalaji Temple. It is situated on the top of the Benog Hill and has an idol of Mata Durga in it. The temple is surrounded by thick forests and offers a panoramic view of the Himalayan peaks, Doon valley and Yamuna valley.

Clous End
The bungalow built in 1838 by a British Major was one of the First Four buildings of Mussoorie. The bungalow has since then been converted into a hotel called Clouds End, and is situated at the extreme west of Mussoorie Hill, 8 kms from Library. The resort is surrounded by thick forest, offers a wide variety of flora and fauna besides a panoramic view of snow clad Himalayas, and Yamuna river. The most ideally suited resort for fireigners and honeymoon couples.
Mussoorie (Institution)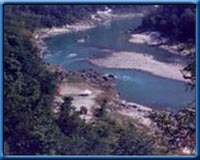 Rich in history and beauty, Mussoorie has given birth to many institutions that are known virtually all over the country. Since 1959, the Lal Bahadur Shastri National Academy of Administration has been training and molding batch after batch of raw probationers into the country's finest bureaucrats, foreign service officers, and police officers. the Academy, situated at Charleville, continues to train officers for the Indian Administrative Service and the Indian Police Service. A fire broke out in the Academy some years ago and destroyed, among other buildings and papers, its precious library rated amongst the best in the country. While many of the books destroyed in the fire are difficult to replace, a new beginning has already been made by acquiring a fine collection of books.
While the Academy belongs to the post-Independence period, most of Mussoorie's institutions date back more than a century. The Waverley Convent, a school for girls, was established in 1845 and has commemorated 150 years of distinguished existence. While some of its buildings were destroyed in an earthquake in the early years of this century, then by a fire, and then again in the recent earthquake, Waverley still retains much of the old-world architectural charm. The cable cars swing between the Hall and Gun Hill more than 100 times a day.

Mussoorie (Excursion)

Naga Tibba
About 55km, an ideal spot for trekking. Naga Tibba is the highest peak around Mussoorie at 10,000 feet and is covered by thick forests.
Dhanolti
On Mussoorie-Tehri Road 25km away, it has deodhar forests and mountainscapes.
Surkhanda Devi
Surkhanda Devi Temple at 10,000 feet, 35 km down the Mussoorie - Tehri road. Perched on a peak, the temple demands a stiff two-km climb form devotees. The temple, goes the legend, was built on the site where the head of Shiva's consort (Shiva is the destroyer in the Hindu trinity) fell after it was chopped off to stop Shiva's terrifying dance of death that was shaking the universe to its very core.
Lakha Mandal
80 km away on the Mussoorie-Yamunotri Road. Linked with the Mahabharata with idols of archaeological importance.
Mussoorie (When to visit )
Mussoorie is a hill station which has pleasant climate around the year. It is a very cool place with greenery at its full bloom during September to November. The best seasons to visit Mussoorie is between April to June and again during September to November. When the plains of North India experience heat waves, Mussoorie provides a welcome break. September - November is spring time here. During this season Himalayas are clearly visible. It is better to avoid monsoons as the roads to Mussoorie are in bad shape. Same thing applies for the winter when roads are blocked due to snowfall
Mussoorie (Travel Information)
There are regular flights from Delhi to Doon Valley (Jolly Grant). From the Jolly Grant airport, taxis and buses ply to Dehradun, from where they go up to Mussoorie (2¼ hours, 60 km). The overnight Mussoorie Express links Delhi to Dehradun, the railhead for Mussoorie.
Delhi to Mussoorie is 290 km by road. Dehradun to Mussoorie is 35 km. There are direct buses from Delhi to Mussoorie, along with private taxis. Buses ply every half hour from Dehradun to Mussoorie. Private taxis and shared taxis are favored by a majority of visitors.
Mussoorie - Local Transport
Hand pulled rickshaws, taxis and cars are not allowed on the Mall, but can move in other motorable parts of Mussoorie.
Mussoorie (Accommodation)
Mussoorie has more than a hundred hotels to choose.
Mussoorie (What to Wear)
In summer,
light woolens are advisable while heavy woolens are a necessity during winter.
The summer season extends from April to June. The winter season is from September to December.
Area : 65 sq km
Altitude : 2005.5 m
Temperature in Summer : 31.2°C(max);7.2°C(min)
Temperature in Winter : 7.2°C(max);1.1°C(min)
Languages : Hindi and English
Best Time to Visit : April-June and September-October
---
Mukteshwar, Uttaranchal Hill Station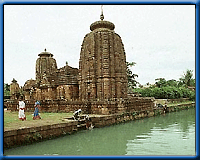 At a distance of 52 km. from Nainital, Mukteshwar set atop a high ridge, is a beautiful Himalayanresort. Surrounded by fruit orchards and thick coniferous forest, it provides a majestic view of the Himalayas and the Almora town below in glittering moonlit nights. The famous Indian Veterinary Research Institute is also located here.

Sightseeing
The View of Himalayas
Mukteshwar provides a panoramic view of the magnificent Himalayas. This splendid view has been a great attraction to the visitors
Indian Veterinary Research Institute
The Institute, well known for its contributions in the research relating to animals, is located here
Excursions

Ramgarh :
26 km. A picturesque hamlet in the heart of apple, plum, peaches and apricot orchards. This fruit belt of Kumaon is famous for its juicy fruits all over India.
Bhowali :
40 km. Situated at an altitude of 1706 mts. on the main Haldwani-Almora road, Bhowali is a popular health resort.
Ghorakhal :
Ghorakhal 37 km. Famous for the temple of Gollu Devta, a demigod highly revered by the Kumaonis.
---
Pithoragarh, Uttaranchal Hill Station
The famous hill station Pithoragarh is in Uttaranchal, which seems to be attracting a lot of tourists these days, because the state not only offers the tourists a chance to enjoy natural beauty but also a chance to try various adventure sports, such as white river rafting, hang-gliding and skiing. So whether you want to spend a holiday close to nature or have the time of your life. Come to Pithoragarh and make Hill resorts in India your travel partner, so you can choose the right holiday package to this beautiful hill resort.
Location Pithoragarh stands at a height of 1,851 meters in a valley, fondly called the 'Little Kashmir' in the northern state of Uttaranchal. The district covers an area of 8,856 square kilometers and it borders both Nepal and Tibet.
Places to Visit
While you are at a tour of Pithoragarh, you can check out a number of lakes around Pithoragarh. There are two of them which are quite famous, one of them being
Jolingkong
and the other one being
Anchherital
. While the former is at a height of 4,634 meters, the latter is situated at an altitude of 3,658 meters. The district is dotted all over with many old temples that you visit. There is a shrine at
Purnagiri,
which is only 20 kms from
Tanakpur,
and there is another Sikh shrine near
Lohaghat
called
Ritha Sahib
. According to a belief, Guru Nanak touched the bitter ritha and it turned sweet after his touch.A tour to the
White Manu Temple
is also a must if you are in Pithoragarh. It is dedicated to the Goddess, who on invocation brings rain thus good fortune to the mountains.
Excursion
If you are in Pithoragarh for a few days, you can travel to Baleshwar, which is 76km away on the Tankpur Road. There you can see the beautiful temples which were built by early Chand rajas in the 8th Century. About 77 kms from Pithoragarh is a Shaktipeeth, which was established by Adi Sankaracharya. About two kilometers away is Chamunda Devi temple.Around 14 kms from Gangolihat is Patal Bhubaneshwar, a temple, which is dedicated to Lord Shiva. Interestingly enough, one has to go through a tunnel to reach the temple.Around 62 kms from Pithoragarh is Lohaghat. About 2 kms from here is the Abbot Mount and Mayawati. At Mount Abbot, one can see a lot of Bungalows, which belong to the colonial era. This place also offers a great view of the Northern Hill Ranges. Mayawati is known for the headquarters of Adwait Ashram. At a distance of 7km from Pithoragarh is Chandak. It is at a height of 1,830 meters and offers a breathtaking view of the Pithoragarh valley. 20 kms from Tanakpur is Punyagiri, which has the Punyagiri temple, which is devoted to Maa Punyagiri.
Mayawati Ashram
22 kms. from Champawat and 9 kms. from Lohaghat, this ashram is situated at an altitude of 1940 mts. Mayawati shot into prominence after the Advaita Ashram was established here. The ashram attracts spiritualists from India and abroad.
Abbot Mount
11 kms., Remarkable for scenic beauty Abbot Mount is situated 8 kms. from Lohaghat. The place is famous for peaceful secluded holidays .
Devidhura
45 kms from Lohaghat Devidhura is famous for its Varashi temple, where the traditional Bagwal (organised stone throwing between two grops) is held once every year on Raksha Bandhan.
Vanasur - Ka - Kila
This fort is situated at an elevation of 1859 mts., 7 kms. from Lohaghat and 20 kms. from Champawat. (Lohaghat to Karnakarayat is 6 kms. by bus and Karnakarayat to Vanasur-ka-Kila 1 km. by foot .
Visiting Pithoragarh
There are frequent buses to Pithoragarh from Almora, Nanital and Delhi, so getting to Pithoragarh by road is no problem.The closest railhead is at Tanakpur and the closest airport is at Patnanagar, which is 249kms from Pithoragarh.
---
Lansdowne, Uttaranchal Hill Station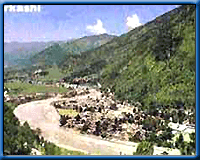 Lovely Lansdowne, set at an altitude of 1,706 metres about 81 kms from Pauri is one of the quietest hill station in the country. It was very popular among the Britishers and is named after Lord Lansdowne, the Viceroy of India from 1888 to 1894. The charming resort surrounded by thick oak and pine forest is a perfect place for a peaceful holiday in the lap of mother nature.The Lansdowne was founded by 'Lord Lasndowne' in 1887 A.D., thus the place has been named after him. Lansdowne was originally a popular hill station with the Britishers. Lansdowne was a major place of the activities of freedom fighters from British Garhwal during British period. Nowadays, the famous Garhwal Rifles of the Indian Army had its command office here. 81 km. from Pauri, Lansdowne is situated at altitude of 1,706 meters on a hill, which was originally known as 'Kaludanda' in local language, enroute Kotware-Pauri road. The nearest railway station is Kotdwar at a distance of 41 km.
Lansdowne is a Military station developed by the Britishers, which is catering for the Recruits Training center of the Garhwal Rifles. The war memorial at the Parade Ground of the Garhwal Rifles Center is an attraction for the visitors. Area of the city is about 6.09 sq. km. Total population as per 1991 census is 7,106 with 4,415 male populations and 2,691 female population. The literacy percentage of the city is 89.58. The climate of the city is pleasent in summer, very cold in winter. The nearest airport is Jollygrant, a place near to Deharadun at a distance of 152 km. via Kotdwar-Haridwar road.
Surrounded by thick Oak and blue Pine forests, Lansdowne is a very charming place for a quiet holiday as it is devoid of the usual hustles and bustle of hill stations. Lansdowne has scenic beauty and good surroundings. The pine and oak trees provide an healthy climate. The beautiful and refreshing points around the city are Tip-n-Top, Santoshi Mata Temple, Church Point. The excursions from the city are Tarkeshwar Mahadev temple, Bhairav Garhi temple etc. Annual 'Shardotsav' is also organized at this hill station during autumn season.
Facilities
Accommodation :
Tourist Rest House and Hotels
Supplementary Accommodation facilities :
Forest Rest House, Army Welfare Board Rest House, PWD Inspection House.
Hospitals :
Board Hospital & Army Hospital.
Places Around Lansdowne
Situated 45 km from Lansdowne, Kotdwar is a gateway to the hills and one of the last rail termini for Garhwal.
Karnva Ashram
The ancient ashram is located 14 km from Lansdowne. Legend has it that Shankuntala gave birth to prince Bharat here, after whose name the country is called Bharat Varsh. Other nearby places of interest include Sidhbali Temple (3 km) and Charaik Hills (20 km).
Jwalpadevi
(52 km) Is one of the better-known religious areas of the entire division on the main Pauri-Kotdwar road. A large number of devotees come here during Ashtami (April and October) for pilgrimage.
Tarkeshwar Mahadev
(30 km) Is a temple of Lord Shiva situated at an altitude of 2092 m, on top of a hillock surrounded by a thick forest of deodar, blue pine, and oak. The temple is among one of the oldest in the world. The highlight of this place is that even at an altitude of 2092 mtr.
How to Reach
By Rail :
The nearest railhead for Lansdowne is Kotdwar (2 hours), which is well connected by buses. Lansdowne is also linked by a motorable road to almost all the important cities in Uttaranchal. Lansdowne is 295 km from Delhi, 95 km from Haridwar and 150 km from Dehradun.
---
Ranikhet, Uttaranchal Hill Station
Ranikhet
(The Queen's Field) has come to be known so because according to popular belief, this spot had won the heart of Rani Padmini, Queen of Raja Sudhardev and she chose this scenic spot to be her abode.To view nature & its elements in full harmony, the right place to be is Ranikhet. It is the place which wonderfully mirrors the best of the heavenly Himalayas offering excellent views of the snowcapped Nanda Devi (7817m), lush green forests, delicate plant life and attractive wild life.
At on altitude of 1829m, north of Nainital (61 km) and well connected to Almora (44km) & Kathgodam (83km), Ranikhet ( km) has emerged as a favoured all season destination. During the rains, flowers sprout up everywhere in rainbow colours, branches of trees stoop with ripened fruits & sunlight peeping through the mist & clouds endow an enchanting effect all across Ranikhet.
As winter comes, the softly falling snow flakes cover the environs in sheets of pure whiteness.The 1869 the land was bought by British from local villagers and a summer rest & recreation settlement was set for British troops. Today it is an important army town and the head quarters of the Kumaon Regiment.
There are many enjoyable walks, picnic spots, exciting treks and 6km from the town, Upat, has one of the best mountain golf links (9 holes) in the country surrounded by dense oak forest. The Museum &c the Memorial are the jewels of Ranikhet.
How to Get There
Air :
Nearest airport is Pant Nagar, (119km)
Rail :
as with the other hill stations in the Kumaon Region, Kathgodam (83 km) and Ramnagar (96km) are the nearest railheads.
Road :
Ranikhet is connected by road with all the major towns of the region. There are regular buses to Almora, Nainital & Ramnagar operated by KMOU & State Roadways, - 20643. It is also well connected to Delhi (279km), & Haridwar (254 km).
Places to Visit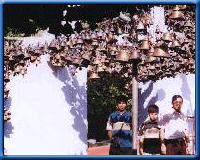 Jhoola Devi Temple
This secluded temple dedicated to Durga has beautiful bells, echoes of which can be heard from some distance. Nearby is a temple of Lord Rama.
Chaubatia
Chaubatia is a vantage point set amidst gardens. The Government Fruit Research center is located here. On a clear morning a 300 Km wide view of the snow - clad Himalayan peaks can be seen clearly from Chaubatia, 10 Km from Ranikhet on a motorable road. The Nanda Devi, Trisul, Nanda Ghunti and Nilkanth peaks are very clear. Bhaludam, 3 Km from here, has an artificial lake.
Upat & Kalika
Situated on the road to Almora, Upat has a 9 - hole golf course, while Kalika is famous for its Kali Temple and forest nursery.
TOUR ENDS WITH SWEET MEMORIES TAKE HOME
Uttaranchal Hill Stations Reservation Form