Uttaranchal Tourism
–»
Paragliding in Uttaranchal

Paragliding in Uttaranchal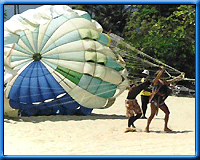 Paragliding is the most simple form to fly and all you require is a para glider. A paraglider is a non-motorized, foot-launched inflatable wing, which is easy to transport, launch, and land. It is constructed of rip-stop nylon or high stress polyester fabric. The pilot is clipped into a harness and is in a comfortable sitting position. The harness and the Paraglider attached by sturdy kevlar lines. The Para gliders can fly in the air for hours with the help of the glider and climb to altitudes, more than 10,000 feet high or opt for cross-country flying adventure covering vast distances.
Pithoragarh :
One of the most striking regions in the hills of Uttaranchal is Pithoragarh, Kumaon's easternmost district. The district headquarters, also called Pithoragarh, is wedged in between Nepal and Tibet, in the tiny Soar Valley of the Lesser Himalayas. The valley is flanked by four hills - Chandak, Dhwaj, Thal Kedar and Kundar - and is dramatic in its beauty. Pithoragarh is in the heart of adventure country. In ancient times, the town had as many as six passes into Tibet, and it is still on the sacred Kailash-Mansarovar trail. Treks to the Milam and Namik Glaciers are kick-started here. A number of adventure sports are possible in the region and we will organize them for you. Hang gliding, paragliding, trekking, skiing, canoeing, river rafting and fishing.
For the nature lover and wildlife enthusiast, there are hikes through Pithoragarh's thick forests where you can spot snow leopards, musk deer and peafowl. The rolling meadows surrounding the town are soft with velvet grass and the scent of wild flowers - lovely for a lazy day in the sun!Pithoragarh was the medieval bastion of the Chand rulers, who were great builders of temples. Many of them lie in ruins, but pilgrims still visit the others and festivals are celebrated here in a big way. Visit the Kapileshwar temple, an ancient cave-temple dedicated to Shiva; the Kamaksha temple; and the Kailash Ashram.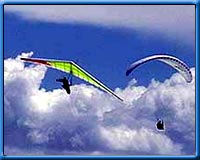 The Mostamanu is a famous temple near Chandak, 7 km from Pithoragarh, from where you can get a spectacular view of the snowy Himalayas - the peaks of Nanda Devi, Panchuli and Trishul. A 29 km trek uphill from the Soar valley takes you to Dhwaj and the temples of Shiva and Parvati. Thal Kedar, 16 km, is another pretty spot with Shiva temples where there is a grand Shivratri celebration each year.

Getting there :
Pithoragarh is :
503 km from Delhi
330 km from Nainital
212 km from Kathgodam
150 km from Tanakpur.
Buses and taxis are available from Kathgodam and Tanakpur, the two nearest railheads. Pithoragarh has a small hill airstrip at Naini Saini, 5 km from town. If you are driving in from Delhi, breaking journey at Kathgodam or Nainital is convenient. Almora and Bageshwar are the main gas refuelling halts en route.
Best time :
The months of March to June and mid-September to October are ideal for visiting Pithoragarh, while July to early September is the rainy season. Light woollens and rain protection is needed in summer, while heavy woollens are called for in winter.
Paragliding Course in Pithoragarh :
| | | |
| --- | --- | --- |
| Package | Duration | Charge per pax |
| Basic | 5 Days | Rs.6000 |
| Advance | 7 Days | Rs.10000 |
Above Package includes : -
All Meals. - Accomodation on twin room sharing basis. - Transportation to the flying site and back. - Equipments and training Instructor. - Medical Assistance.
Mussoorie :
Popularly known as the Queen of Hills, this charming hill station, 34 kms from Dehradun is situated at an altitude of 2003 mts in the Garhwal hills above sea level. Mussoorie is one the beautiful hill stations in India and the most frequently visited. It provides excellent respite to people who want relief from the hot sultry conditions of the plains, especially since it is close enough to the capital to make just weekend trip. Also, major Hindu pilgrimage sites like Kedarnath, Badrinath, Gangotri, Yamunotri, Haridwar, Rishikesh are not far from this place.
In 1820, Captain Young of the British army was influenced by the beauty of this place and made it his residence. The name, Mussoorie is derived from plants of 'Mussoorie' which were found in abundance here. After its discovery, this hill station gradually developed as a centre of education, business, tourism and beauty.
TOUR ENDS WITH SWEET MEMORIES TAKE HOME
Paragliding in Uttaranchal Reservation Form