Uttaranchal Tourism
–»
Auli Skiing Package

Auli Skiing Package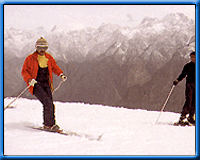 Auli Located at an altitude of 2500 - 3050 mts above sea level, offering a panoramic view of Mt.Nanda DeviKamet, Mana Parwat, Dunagiri, Beethartoli, Nilkanth, Hathi Parbat, Ghori Parbat and Nar Parbat,is an ideal place for Skiing, covered with evergreen conifers and oak forest. The potential of snow dressed slopes of Auli, once the training grounds for the Paramilitary forces was adjudged by the French and Austrian experts who compared it with the best skiing grounds of the world, and rated it as one of the best. In summers Hikers/ Trekkers will find numerous marked walks and there are also mountain bike trails. at the backdrope of the resort lies the famous high altitude Gorson Reserve forest (part of Nanda Devi National Park ) richly habituated by rare Himalayan wildlife including snow Leopard, Musk Deer, Wild Boar, Wild Cat,Wild Rabbit, Jackal, Fox, Hyena and Beer. There are various scenic locations around .
The climate in summers is extremely pleasant and air from the deodar and oak trees contribute to natural health spastrongly recommended by Physicians/ Naturopaths/ Therapists
Auli is today a promising ski spot, a perfect health resort and an ideal vacation resort, both for the winters and summers.breathtaking view of snow-capped peaks all around you.

SERVICES & FACILITIES FOR SKIING AT AULI
Days :
8 NIGHT / 9DAYS
Cost :
........................
Day 01 :
Arrival transfer and overnight stay in the Hotel. Day02 : Delhi-Rishikesh by surface (227 km)
Day 03 :
Rishikesh-Joshimath by surface (257 km)
Day 04 :
Skiing at Auli
Day 05 :
Skiing at Auli
Day 06 :
Skiing at Auli
Day 07 :
Skiing at Auli
Day 08 :
Joshimath - Rishikesh by surface (257 km)
Day 09 :
Rishikesh - Delhi - Onwards journey
PACKAGES INCLUDES
Accommodation at Delhi, Rishikesh on Breakfast basis & at Joshimath or Auli with Breakfast and Lunch.
Skiing equipment with Ski Instructor.
To & Fro transport Delhi - Joshimath - Delhi by Mini Bus / Jeep / Car

Days :
3 NIGHT / 4DAYS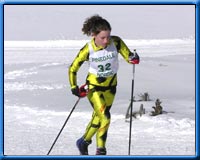 Day01 :
Arrive Joshimath and OverNight at Hotel.
Day02 :
Skiing at Auli.
Day03 :
Skiing at Auli.
Day04 :
Morning depart on words destination
PACKAGES INCLUDES
Accommodation at Joshimath with Breakfast.
Skiing equipment with Skiing Instructor
Season End From JANUARY to MARCH
Accessibility
Air :-
For those travelling by air, the nearest airport is at Jolly Grant Airport (Dehradun) 273 km from Joshimath, 17 km from Rishikesh.
Rail :-
Coming from any part of India, the nearest rail head is Haridwar 299 km from Auli.
Road :-
Auli is only 13 km drive from Joshimath. State transport and Union buses play regularly between Joshimath and Rishikesh (253 kms). Local Transport Union buses and State Transport buses operates between Joshimath and Rishikesh (253 km), Haridwar (277 km), Dehradun (298 km) and Delhi (500 km)From Joshimath onwards, both bus and taxi services are available for Auli. Deluxe coaches can also be arranged with prior notice for the group of 15 people or more.
Cable Car:-
The most popular way to drop in at Auli is by the famed cable car service which runs for 3 kms. Travelling by the rope-way, it is impossible to resist the captive beauty of the snow covered peaks, the alpine forest and the bracing climate.
TOUR ENDS WITH SWEET MEMORIES TAKE HOME

Auli Skiing Package, Adventure Tour
Reservation Form