Uttaranchal Tourism
–»
Namik Glacier

Kumbh Festival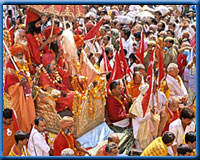 The origin of the Kumbh is very old and dates back to the time when Kalasha (pot of nectar of immortality) was recovered from Samudramanthan (during the churning of the primordial sea), for which a tense war between Gods and Demons ensued. To prevent the Amrita Kalasha being forcibly taken into possession by Demons, who were more powerful than Gods, its safety was entrusted to the Gods Brahaspati, Surya, Chandra and Shani. The four Gods ran away with the Amrita Kalasha to hide it from the Demons. Learning the conspiracy of Gods, Demons turned ferocious and chased the 4 Gods running with Amrita Kalasha. The chase, lasted 12 days and nights during which the Gods and Demons went round the earth and during this chase, Gods put Amrita Kalasha at Haridwar, Prayag, Ujjain and Nas. The festival is religiously most important for the Hindus. At every Kumbh occassion, millions of Hindus take part in the celebrations. During 2004 Kumbh at Haridwar, more than 10 millions devoteed gathered at the site. Saints, priests, and yogis from all corners of India, gathered to participate in Kumbh. Haridwar is considered very holy, due to the fact that Ganga enter plains from mountains here itself. The festival is visited by the most amazing saints from all across India. The Naga Sadhus are one such, who never wear any cloth and are smeared in ash. They have long matted hairs and are not at all affected by the extremes of heat and cold. Then there are the Urdhwavahurs, who believe in putting the body through severe austerities. There are the Parivajakas, who have taken a vow of silence and go about tinkling little bells to get people out of their way. The Shirshasins stand all 24 hours and meditate for hours standing on their heads. Spending the entire month of Kumbh on the banks of Ganga, meditating, performing rituals and bathing thrice a day, are the Kalpvasis.
It is believed that bathing during Kumbh cures the bather of all sins and evils and grants the bather, salvation. It is also believed that at the time of Kumbh Yog, the water of Ganga is charged with positive healing effects and that water at the time of Kumbh is charged positively by enhanced electromagnetic radiations of the Sun, Moon and the Jupiter.
Kumbh Mela Festival Dates 2010: January 14, 2010 to April 28, 2010
KUMBH MELA – SEEING IS BELIEVING
| | | |
| --- | --- | --- |
| Date | Name | Description |
| January 14, 2010 (Thursday) | Makar Sankranti Snan | First Bath |
| January 15, 2010 (Friday) | Mauni Amavasya and Surya Grahan (Solar Eclipse) | Second Bath |
| January 20, 2010 (Wednesday) | Basant Panchmi Snan | Third Bath |
| January 30, 2010 (Saturday) | Magh Purnima Snan | Fourth Bath |
| February 12, 2010 (Friday) | Maha Shivratri | First Royal Bath (ratham Shahi Snan) |
| March 15, 2010 (Monday) | Somvati Amavasya | Second Royal Bath.( Dvitya Shahi Snan) |
| March 16, 2010 (Tuesday) | Nav Samvatharambh Snan | Bath |
| March 24, 2010 (Wednesday) | Ram Navmi | Fifth Bath |
| March 30, 2010 (Tuesday) | Chaitra Purnima | Bath |
| April 14, 2010 (Wednesday) | Baisakhi | Main Royal Bath.( Pramukh Shahi Sanan) |
| April 28, 2010 (Wednesday) | Shakh Purnima | Bath |
About Camps: We will have 100 Cottage Camps in 4 acres of land by the Ganges. Some of the major highlights of the camps:-
Accommodation in spacious all weather proof luxury-tents
Attached baths and toilets with running Hot & Cold water
Multi cuisine vegetarian dining facilities offering international ( continental, Chinese) and regional cuisines ( Gujrati, South India and other Indian cuisines)
Hot water bottles as sun down service
Guided visits to the shrine
First aid at camps with oxygen cylinders
Escorted walk and visits to nearby areas
Well structured activity blocks at each of the campsites to take care of Aarti,Religious Discourses,Yoga lessons,Srimad Bhagwat Katha Path, Meditation.
Ayurvedic massages & Spa Centre
STD / ISD calling facilities at the camps.
Well structured activity blocks at each of the campsites to take care of
Mahakumbh Camps Cost

Validity

Cost (Per person on Twin Sharing Basis)

Inclusions

13th Jan' 2010 - 14th April' 2010.
(Not valid during bathing dates)

Rs 3500 per person

Breakfast + Lunch + Dinner + Taxes.

January :10-14th , 15th 16th, 17th,20th ,30th ,31st
February : 10- 12th ,13th 14th
March : 10 – 13th ,14th ,15th 16th,24th, 29th & 30th
April : 10 – 9th – 15th April

Rs 4500 per person

Breakfast + Lunch + Dinner + Taxes.
For Hotel Booking in Haridwar Please Contact Us

Luxury Hotels

Deluxe Hotels

Budget Hotels

Hotel Haveli Hari Ganga
Country Inn & Suites
Classic Residency
Disney Inn
Hotel Ganges Rivera
Hotel Park View
Sun Hotel

Ginger Hotel
Hotel Aditya
Hotel Alpana
Hotel Dolphin
Sagar Ganga Resort

Sachin International
Hotel Anuradha Palace
Hotel Neelkanth
Hotel Midtown
Hotel Alaknanda
Teerth Hotel
Hotel Har ki Pauri
Hotel Jahanvi
Hotel Jewel
Hotel Vinayak
Hotel Khanna Palace
Hotel Suryodaya
Hotel Paradise
Hotel Arjun
Hotel Vinayak
Hotel Ganga Azure
Hotel King
Janhvi Dale
Hotel Shiva
†
TOUR ENDS WITH SWEET MEMORIES TAKE HOME
Namik Glacier, Glaciers of Uttaranchal Reservation Form